Project Years: 2008
RCRA / CERCLA cleanup process
FSE provided project management and coordination of a full scale in-situ chemical oxidation (ISCO) remediation project at the Ottati and Goss/Kingston Steel Drum Superfund Site. The Site is a former drum disposal and reconditioning facility. The project had an aggressive timeline with completion required within a 12 week period.
Design and implementation of remediation strategies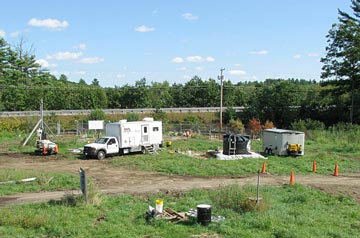 Utilizing the design approved by the EPA, FSE implemented the ISCO Injection Plan. The project logistics were significant and included the following: coordination with the local fire and police departments; coordination between the drillers and injection subcontractor; and purchase and deliveries of water and chemicals. FSE prepared several operational documents: Traffic Control Plan, Oxidant Injection Plan, and a Health and Safety Plan.
Approximately 380,000 pounds of sodium persulfate was mixed with potable water and activated with sodium hydroxide.
Geological, geotechnical, geothermal and geophysical investigations
Approximately 270 temporary and permanent ISCO injection wells were drilled across the site. Drilling was performed and sequenced during the ISCO injection.
FSE recommended modifications in the field to the original injection well designs. The approved plan allowed the ISCO injection rates to be achieved and meet the strict schedule.
Groundwater investigation and modeling Environmental chemistry, data collection, management and interpretation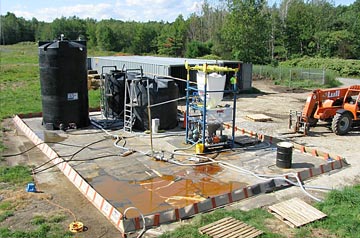 Groundwater parameters including pH, temperature, ORP, and water level were continuously monitored and recorded at several locations using wireless instrumentation. Real-time evaluation of groundwater mounding and groundwater chemistry within the treatment zones maximized the ISCO effectiveness.
Human health and ecological risk assessment, toxicology, health physics and industrial hygiene
Surface water monitoring was performed before, during and after the ISCO injections to ensure that no significant impacts occurred to the onsite streams and wetlands.
Familiarity with DoD environmental cleanup requirements with local, state and federal regulatory compliance to include negotiations with regulatory agencies
For the Ottati & Goss site, FSE ensured proper adherence to the SOPs, onsite H&S Plan, proper waste disposal, and compliance with permitting requirements and all federal, state and local environmental regulations.
Worker safety was a vital component of the project, given the large quantity of hazardous chemicals being delivered, stored, mixed and injected on a daily basis. No accidents or injuries occurred during the project.
Optimization, operation and maintenance of HTRW remediation systems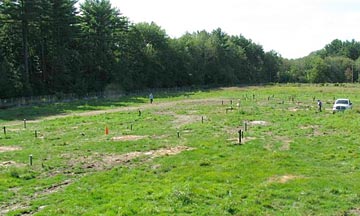 The ISCO injections were completed in three separate injection areas comprising a total area over 5 acres. Each injection area had its own injection platform, with all three areas injecting simultaneously at times. A central mixing area was constructed to store and mix the chemicals and pump them to tanks at each of the three satellite platforms.
FSE met the project schedule of injecting 380,000 pounds of sodium persulfate into 270 injection points over a 7 week period (5 days a week/ 10 hours per day max.). The pumping schedule was maintained by diligent coordination of chemical delivery, potable water delivery, chemical mixing and injection.


Engineering services during construction of HTRW remediation projects
FSE and their subcontractor GES, Inc. provided full time onsite oversight and execution of the ISCO injection project, including rapid mobilization and demobilization
Project Cost: $1,200,000